Emerson UPS Service by Gravity Power Solution
Welcome to Gravity Power Solution, where we offer exceptional Emerson UPS Service as the top-ranked online UPS provider. Our dedicated team ensures the smooth operation of your critical equipment with our comprehensive UPS services, maintaining power continuity for your business. we specialize in Emerson UPS Service, providing businesses with reliable and efficient power solutions. Our highly skilled technicians are trained to handle installation, maintenance, and repair of Emerson UPS systems, ensuring maximum uptime for your operations.
Why Choose Emerson UPS Service from Gravity Power Solution?
Gravity Power Solution stands out as the best choice for Emerson UPS Service because of our commitment to excellence, customer satisfaction, and technical expertise. By partnering with us, you gain access to:
Industry-leading Emerson UPS products designed for optimal performance, reliability, and energy efficiency.
A team of certified and experienced technicians who are well-versed in Emerson UPS systems and their maintenance.
Customized service plans tailored to your specific business needs, ensuring a seamless experience from installation to ongoing support.
24/7 customer service and emergency response, guaranteeing minimal downtime in the event of an issue.
Benefits of Emerson UPS Systems
Emerson UPS systems offer numerous advantages for businesses looking to safeguard their critical equipment, including:
Advanced technology for uninterrupted power supply, even during power outages or fluctuations.
Efficient energy management, results in reduced energy costs and a smaller carbon footprint.
Scalable solutions are designed to grow with your business, making them suitable for organizations of all sizes.
Enhanced monitoring capabilities, allowing you to track system performance and address potential issues proactively.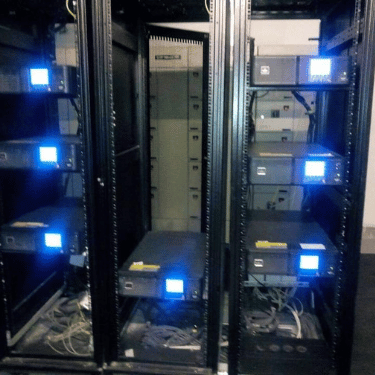 Our Expert Emerson UPS Service Team
At Gravity Power Solution, we take pride in our exceptional team of skilled technicians who are dedicated to providing you with the highest level of Emerson UPS Service. They possess:
Extensive training in Emerson UPS systems, ensuring your equipment is in capable hands.
A customer-centric approach, prioritizing your needs and working diligently to resolve any concerns.
The ability to perform comprehensive diagnostics and regular maintenance, keeping your UPS systems running smoothly.
Quick response times in case of emergencies, minimizing potential downtime and ensuring business continuity.